Written by Jose Solis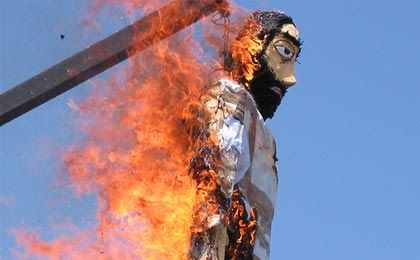 One of the most famous traditions of the Catholic Holy Week is the "Quema de Judas" (Burning of Judas). This carnivalesque celebration is predominant in most Spanish speaking countries and takes place late at night on the Saturday before Easter.
The ritual consists of the burning of a human-like figure that represents Judas Iscariot. It's common for the whole community to gather and create the doll using old clothes, paper and firecrackers.
The figure of Judas goes beyond being a Biblical reenactment, it's also meant to expiate the town of all its guilts, sins and misbehavior. With this ritual, they atone for their sins, while punishing the treacherous Judas. In Costa Rica, it's traditional to have a public hearing where Judas is accused and then sentenced to death. Before the figure is set on fire, his testament is read. Said document is made up of a series of inside jokes, written in verse in the style of traditional "bombas".
Considering this ritual lacks any of the solemnity attributed to the Holy Week, the Catholic Church doesn't approve this burning. They don't condemn it either, which is why it's common for this to take place right after the eight o'clock mass on Saturday.
However, this tradition doesn't come off as festive and exciting as it might sound. During the last few years, the Quema de Judas has also served as an excuse for vandals to trash private property and commit felonies. In 2009 a furniture store in San Rafael, Heredia, was burned to the ground by people who had attended the Judas festivities.
This year, the police department of San Jose has prepared over 500 units to patrol the areas where the Quema takes place. This will be done in accordance to prevision laws which suggest authorities should be able to contain potentially problematic situations.
Have you ever attended a Quema? Do you think it's wise for the police to supervise them?
Filed under: Costa Rica News, Cultural Events, Travel on April 20th, 2011 | No Comments »